Blow Through Rotary Feeder Valve
Product Detail
Product Tags
·Applicable Field:food, feed, mining, chemical industry or field
·Applicable Material:powder, particles, broken materials, etc.
·Function:Receiving, discharging materials by pneumatic conveying and ensuring the stability of pressure of air network system
·Performance characteristics:arc through type, NJ type separable bearing, spiral air-sealed structure, flow-guiding rotor, avoiding dead angle in the flow channel, reducing discharge resistance, and increasing discharge
·OEM : Available
·Patent No.: 201420033836.7
ZILI blow through rotary airlock valve, adopting straight-through design and implicit pressurization design, the wind resistance is small, and it is more suitable for materials with large friction coefficient. The sealing form can be selected according to the user's use environment. The U-shaped rotor is adopted, and the material is not easy to deposit on the rotor.
blow-through rotary valves don't have an outlet flange on the bottom side like a drop-through. The bottom of the housing bore is either smooth or has a trough, which is where the pneumatic conveying line connects and runs through the bottom of the valve. Material feeds into the inlet like a drop-through, but as the rotor passes material to the underside of the valve it's "blown" directly out of the rotor pockets into the conveying line downstream.
Blow-through valves are ideal for more cohesive or sticky powders like cocoa, flour, or milk powders. These powders may compact and stick to the inside of the rotor vanes. In a blow-through rotary valve, discharge is optimized by blowing these easily compacted powders out of the rotor pockets, which helps keep the rotor clear of buildup. Another advantage of blow-through rotary valves is their low profile. Compared to a drop-through valve of similar size, the blow-through systems' conveying line runs much closer to the valve centerline allowing it to take up much less height. This makes blow-through rotary valves a good choice for low-clearance installations where a drop-through may not fit.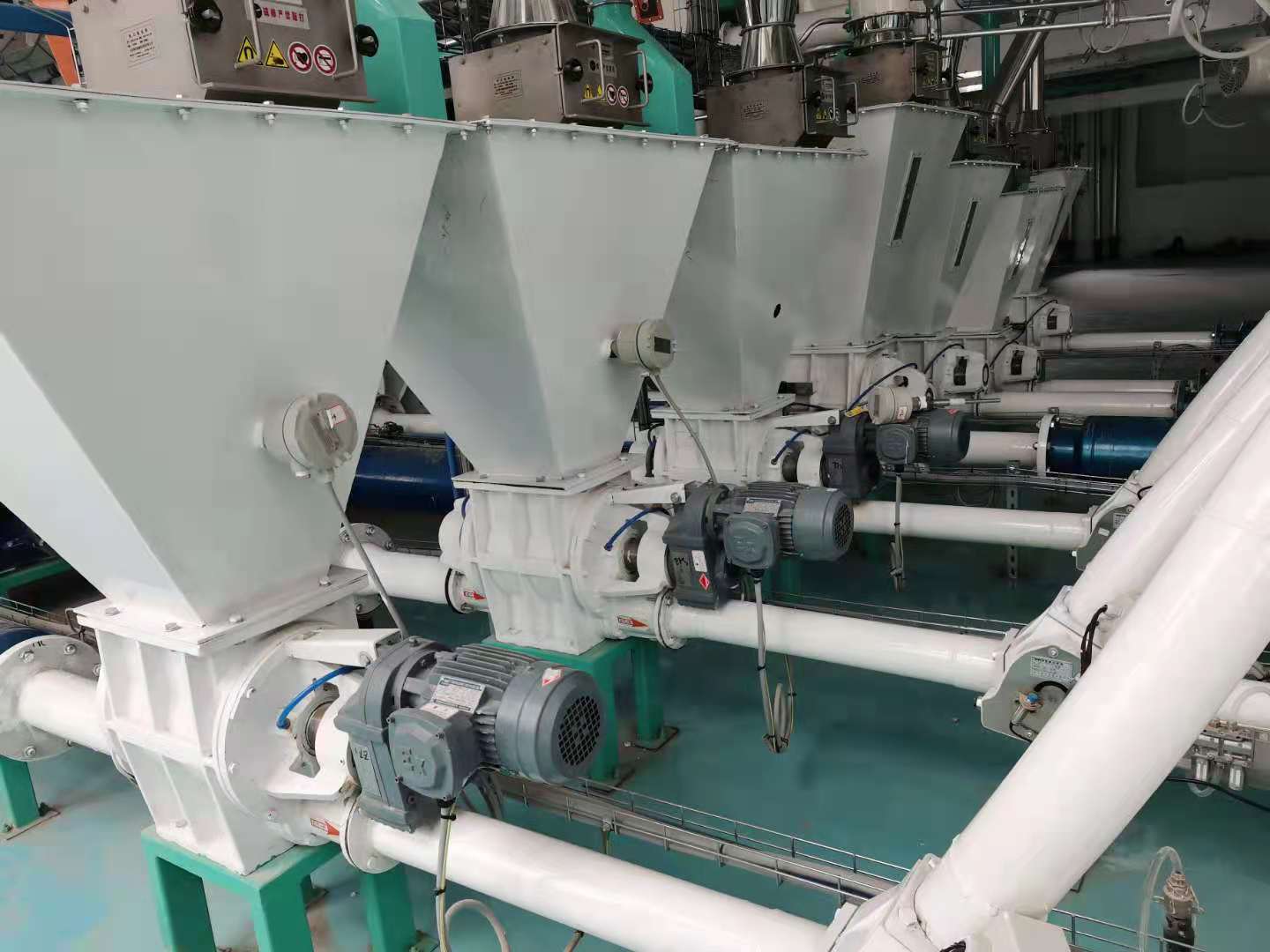 Q1. Are you a manufacturer or a trading company, do you accept OEM ?
A1. We are manufacturer and we have been in the rotary airlock valve and diverter valve filed for almost 20 years. We have our own engineer team and up to now we have got several patent of our own. We can customize according to users usage.
Q2. What are your advantages  ?
A2.Our Airlocks can operate smoothly for 6-8 years with SKF Bearings, ISO 600-3 nodular cast iron material, and professional design with our own patents. Since we are manufacturer, we have our own supply chain and quality control system. So we can provide competitive price as well as good quality.
Q3. What kind of payment terms and transportation do you accept ?
A3. We accept payment through Alibaba, TT, LC etc. Air transportation and sea transportation are available.
---
Previous:
Quick Cleaning Rotary Airlock Valve
---
Write your message here and send it to us